By DJ Fusion
What's up to all of the Planet Ill crew!
It's that time again for your weekly Indiesent Exposure installment of FREE music downloads & info about independent music artists of different genres who deserve serious credit for keeping things lively & non-cookie cutter status in the world of music.
Post by post, Indiesent Exposure is set to give your ears some temporary respite from the daily audio wackness, that bombards the masses through the mainstream radio's definitions of Hip-Hop, Rock, Soul, Funk, Jazz, Rock, Reggae, House, World Music and more.
If you like what you hear and download, PLEASE support (monetarily and otherwise) these artists as much as you can in the future – hit up their websites, purchase some product, go to their shows, etc.
This week's Indiesent Exposure highlights a great talent in a region that is still slept on in the United States' world of Hip-Hop after all of these years even after national talent – New Jersey.
Whenever you have the chance, please let all of the talented Indiesent Exposure artists and the Planet Ill crew know what you think of the music in our comments section!
Let's get it in:
Depending on your viewpoint, Hip-Hop music has existed for at least 35 – 40 years. It's gone international, affecting youth and artists all over the world with its unique forms of expression, whether via 2 turntables and a mic, breaking on the dance floor or other extensions of the culture.
Yet, foolish stereotypes still exist over who should do what in the culture.
How dare a Black MC actually want to do serious collabos in the rock music world? Others feel besides Eminem, white MCs are somehow not supposed to exist and be quality with the skills.
There are various blog commentators, actually judging albums by their covers, who will deem a release trash because of the level of PhotoShop done by the artist's graphic design team or because an artist doesn't seem "hardcore" enough.
I saw a really bad example of the latter with the latest mixtape by Northern New Jersey's own J.A.M.E.S. (Just Another Man in The Everyday Struggle) WATTS.
Going through the 2DopeBoyz's site to cop the MC/Producer's latest release, the comments section was ridiculous, basically having a lot of heads not even bother to listen to the ironically titled 22 track The Very Worst Of James Watts just due to the cover picture.
The audience that would complain about a surface thing like a cover (which honestly, doesn't look bad to me) and not get into what's important about any Hip-Hop collection – if the beats and rhymes are on point – are really missing out on a solid piece of work.
Having seem him from his early stages as a artist way way back in my early WRSU 88.7 FM days in the late 1990s to early 2000s (then going under the name of Absolut) to the present, J.A.M.E.S. WATTS has definitely grown with his skills on the mic and behind the boards to become a formidable force.
The Very Worst Of James Watts is a nicely balanced collection of well-produced, original tracks, remixes and freestyles. WATTS is able to go easily from the extremes of hardcore bravado to serious introspection, booty shaking party tracks, and songs that invoke 1990s-era Boom Bap Hip-Hop.
Here's a description of the project from the man himself:

Despite being a day late, my latest mixtape project has finally arrived! Entitled "The Very Worst Of J.A.M.E.S. WATTS", it features some of my favorite songs that I have released over the past few years, in a long playing mixtape format.

In the last couple of weeks I've said that this collection is akin to pressing the "reset" button on my music career; a demo of sorts, it shows where I've been as an artist, and hopefully, the potential of where I can go.

These songs, freestyles and remixes are the best reflection of my character and what I represent musically, now and in the future.
In 21st century, cats who rhyme and post up their music to the world are a dime a dozen. You get some good, some bad and some just freakin' terrible when coasting the blogs.
With J.A.M.E.S. WATTS, I look at it like this – if The Very Worst Of James Watts is an accurate title of what we should expect in the future, the realm of rap music has a whole lot of insanely dope music to look forward to. Blast this joint in your speakers and realign some of your views of what good Hip-Hop is.
Check out more updates and goodness in the world of J.A.M.E.S. WATTS over at his official website, http://www.TheGameNeedsJames.com or over on the Twitter superhighway at http://www.twitter.com/JamesWATTS.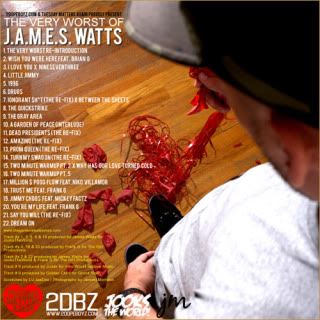 J.A.M.E.S. WATTS – The Very Worst Of James Watts (Download)
Preview:

Tracklisting:
1. The Very Worst Re-Introduction
2. Wish You Were Here feat. Brian G
3. I Love You b/w NineSevenThree *
4. Little Jimmy *
5. 1996 *
6. Drugs *
7. Ignorant $h*t (The Re-Fix) b/w Between The Sheets
8. The Quickstrike
9. The Gray Area *
10. A Garden Of Peace (Interlude)
11. Dead Presidents (The Re-Fix)
12. Amazing (The Re-Fix)
13. Prom Queen (The Re-Fix)
14. Turn My Swag On (The Re-Fix)
15. Two Minute WarmUp Pt. 2 b/w Why Has Our Loved Turned Cold *
16. Two Minute WarmUp Pt. 5
17. Pogo Flow feat. Niko Villamor *
18. Trust Me feat. Frank G
19. Jimmy Choos feat. Mickey Factz *
20. You're My Life feat. Frank G *
21. Say You Will (The Re-Fix) *
22. Dream On *
* Personal Favorite Tracks
Music Video #1: J.A.M.E.S. WATTS – Wish You Were Here
Wish You Were Here from J.A.M.E.S. WATTS on Vimeo.
Music Video #2: J.A.M.E.S. WATTS – Two Minute WarmUp Part 6
Two Minute WarmUp Part 6 from J.A.M.E.S. WATTS on Vimeo.
Video: Good*Fella Radio "Hip Hop Series" – J.A.M.E.S. WATTS

Fill up your iPod and Catch up on the all of Planet Ill's Indiesent Expsoure article series & FREE music downloads at anytime – click here to get details of the great Indie Music artists we've already covered!
DJ Fusion's E-Mail: djfusion@planetill.com (Back Up: fuseboxradio@gmail.com)
DJ Fusion is the creator and co-host/mix DJ of the syndicated FuseBox Radio Broadcast (hit up http://FuseBoxRadio.podomatic.com for the radio show archives) and the website BlackRadioIsBack.com, two areas trying to fight audio B.S. one day at a time…check folks out around either way when you can. 🙂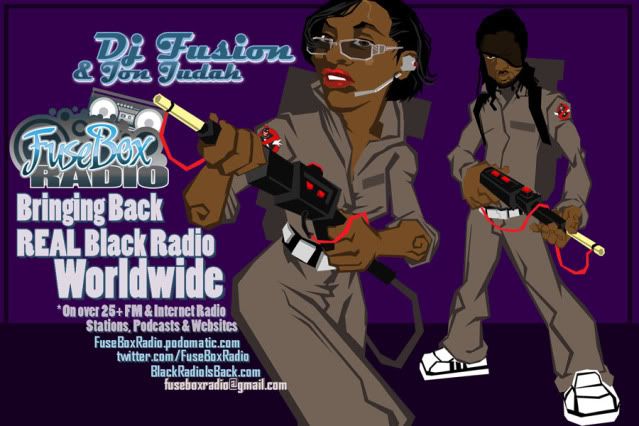 Also feel free to touch base with a sis on the Twitter Expressway at http://twitter.com/FuseBoxRadio.
If you dig the music vibe I'm on & want to download some free mixtapes from the FuseBox Radio/BlackRadioIsBack.com collective, hit up the constantly updated Bandcamp page over at http://FuseBoxRadioBroadcast.bandcamp.com.

Related Articles
Share
About Author
(2) Readers Comments