By DJ Fusion
It's now time for another session of Indiesent Exposure, the weekly section here at Planet Ill where folks drop some quality music downloads & info from quality independent music artists all types of different genres (Hip-Hop, Soul, Funk, Jazz, Rock, Reggae, House, etc.) who deserve more exposure and props for keeping their various genres lively & non-cookie cutter status.
Hopefully post by post here on Planet Ill, Indiesent Exposure will give your ears some temporary respite from some of the audio wackness, boredom and/or iCoonery that bombards the masses each day via the mainstream radio and TV airwaves.
If you like what you hear in this section (some joints of which will hopefully be new to folks), PLEASE support these artists as much as you can in the future – hit up their websites, purchase some product, go to their shows, etc.
At the end of the day, music artists needs to eat like everyone else for putting in their work somewhere down the line.
In this week's Indiesent Exposure, we have some singles hitting up the high end of the indie Hip-Hop, Afrobeat and Electronica/Soul end of the spectrum.
Check out everything below from these talented artists and the Planet Ill family know what you think when you get the chance – hope everyone enjoys the selections!
Let's get into it: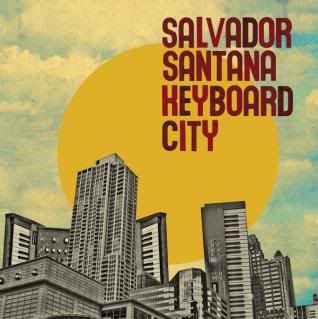 Salvador Santana – Keyboard City (The Hood Internet Remix feat. GZA) (Download)
Besides having a natural strong musical background through his family influences (via maternal grandfather blues pioneer Saunders King and his father Carlos Santana), keyboardist, vocalist, composer and songwriter Salvador Santana has been putting in some pretty solid work professionally with his own band SSB for the past few years.
His upcoming solo album Keyboard City (dropping in February 2010) has the huge potential to be a pretty eclectic piece of work, especially with his studio sessions & inspiration from Hip-Hop MC/Producer Del the Funky Homosapien and Beastie Boys' collaborator Money Mark.
Santana's music has a lot of Latin, Soul, Jazz, Hip-Hop & Electronica influences, which I think show's pretty well with The Hood Internet's remix of the single "Keyboard City" featuring Wu-Tang Clan's GZA.
The GZA does his thing spitting out a mellowed out guest verse over S. Santana's fuzzy electronic sung vocals (some will say kind of 808s & Hearbreak Kanye-ish, but not really….) and soulful piano chords.
Check out some more of what Salvator Santana is about with his music, touring schedule and other good stuff over at his official website, http://www.SalvadorSantana.com.
Music Video: Salvador Santana – Why Oh? (Live)



St. Joe Louis – Good Morning (Download)
The New Jersey based Hip-Hop crew of St. Joe Louis (consisting of MCs Tom Chase and Michael Cardigan and producer/MC Elete) have been putting in a lot of work for a minute in the NJ/NYC/CT Tri-State area in the live music scene and with various EPs and songs dropping on the streets to the 'net.
This year should mark when St. Joe Louis drops their first official album, 30,000ft High & Rising, to the masses with features from independent Hip-Hop stalwarts like Skyzoo, PH (formerly Pumpkinhead), Silent Knight and more.
"Good Morning" is the first single from 30,000ft High & Rising and with impassioned verses from all of the MCs about making moves over a pretty nice flip of a piano and rock guitar sampling, is a good look for the group and hopefully a great sign of what's to come when the album drops.
For more info about what's good with St. Joe Louis, hit up their official MySpace page when you can at http://www.myspace.com/StJoeLouis.
Music Video: St. Joe Louis – Good Morning (Live)



Kokolo – Bring It Up (Download)
New York City's Kokolo is an Afrobeat & Funk Music band that has been making major moves internationally the past few years, touring with people all over the music scene like Taj Mahal, Issac Hayes, Roy Ayers, Seun Kuti & Egypt 80 and more.
Now on their 4th official album release with Heavy Hustling (after numerous singles and appearances on compilations) through the Milan, Italy label Record Kicks, the Ray Lugo led band has been dropping singles left and right from the release.
The banger "Bring It Up"features American funk based bass grooves, blasting horn section, driving drums and sing along lyrics that the recent Afrobeat influenced band revival of the last 10 years here in the States is known for.
Find out more info about all of the happenings Kokolo and their side music projects, hit up their official website at http://www.KokoloOnline.com.
Music Video: Kokolo Performing Live In Barcelona, Spain (2009)

DJ Fusion's E-Mail: fuseboxradio@gmail.com
Catch up on the all of Planet Ill's Indiesent Expsoure article series & FREE music downloads at anytime – click here!
DJ Fusion is the creator and co-host/mix DJ of the syndicated FuseBox Radio Broadcast (http://FuseBoxRadio.podomatic.com/) and the website BlackRadioIsBack.com, two areas trying to fight audio B.S. one day at a time…check folks out around either way when you can.
Also feel free to touch base with a sis on the Twitter Expressway at http://twitter.com/FuseBoxRadio.
If you dig the music vibe I'm on & want to download a free mixtape or 8 from the FuseBox Radio/BlackRadioIsBack.com collective, hit up my constantly updated Bandcamp page over at http://FuseBoxRadioBroadcast.bandcamp.com.
Follow Us on Twitter @ http://twitter.com/planetill
Join Us on the Planet Ill Facebook Group for more discussion
Check out Planet Ill's page on Essence.com
Follow us on Networked Blogs
Related Articles
Share
About Author
(4) Readers Comments